Gujarati Patra is a popular dish in the Gujarati cuisine. It has gained popularity beyond the state of Gujarat. Here are a few reasons why it is loved by many:
Gujarati Patra, also known as Alu Vadi or Colocasia Rolls, is a popular Gujarati snack made from colocasia leaves (also called taro leaves) that are stuffed with a spiced gram flour (besan) mixture. Here's a detailed description of the recipe:
Unique and Flavorful: Patra stands out for its unique combination of flavors. The colocasia leaves impart a slightly earthy taste, which is complemented by the spicy and tangy gram flour filling. The addition of various spices and seasonings adds depth and complexity to the dish.
Gujarati Patra is a vegetarian dish that is enjoyed by both vegetarians and non-vegetarians alike. It offers a satisfying and flavorful alternative to meat-based snacks or appetisers.
The preparation method of steaming and shallow frying gives Gujarati Patra an interesting textural contrast. The outer layer becomes crispy while the inner layer remains soft and tender. This combination of textures makes it enjoyable to bite into.
Patra holds a cultural significance in Gujarat and is a part of the traditional Gujarati cuisine. It represents the culinary heritage and reflects the flavours of the region. It is often prepared and shared during festive occasions and family gatherings.
While the process of making Patra involves a few steps, it is relatively easy to prepare. With readily available ingredients and simple techniques, it can be made at home by anyone with basic cooking skills.
Health Benefits :
Colocasia leaves, the main ingredient of Patra, are rich in dietary fibre, vitamins, and minerals. They are known for their antioxidant properties and are believed to have several health benefits, such as aiding digestion and improving heart health. Additionally, gram flour is a good source of protein.
Serving Suggestions :
Patra can be enjoyed as a snack or appetiser and is often served during festivals, parties, and special occasions. It can also be a part of a Gujarati thali meal or a side dish in the main course.
It can also be enjoyed on its own or with a side of green chutney or tamarind chutney. You can also serve it with a cup of tea.
Tips and Tricks :
Choose tender colocasia leaves for better results, as they are easier to work with and have a milder flavour.
If colocasia leaves are not easily available, you can use spinach leaves as a substitute.
Make sure to spread a thin layer of the batter on the colocasia leaves to ensure even cooking.
While slicing the rolls, make sure to use a sharp knife to get clean cuts.
If you prefer a spicier flavour, you can increase the amount of green chilli paste or red chilli powder.
It's important to fry the rolls until they are crispy, as this adds a nice texture to the dish.
Storage Suggestions :
Gujarati Patra is best enjoyed fresh and hot.
So, these factors contribute to the popularity of Gujarati Patra, making it a beloved dish among Gujaratis and food enthusiasts around the world.
Here's a detailed description of the recipe:
Print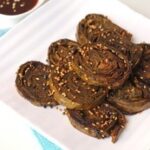 Gujarati Patra Recipe
---
Author:

Prep Time:

10 minutes

Cook Time:

25 minutes

Total Time:

35 minutes

Yield:

6

1

x
Description
Gujarati Patra or alu vadi  is a steamed and then shallow or deep fried  breakfast recipe, popular in both Gujarati and Maharashtrian cuisine. It is made with colocasia leaves which are stuffed with a spicy, sweet and tangy gram flour spread and rolled to form a pinwheel. It tastes amazing with green chutney. You can easily make it at home by simply following the patra recipe mentioned below:
---
Scale
Ingredients
5

–

6

colocasia (arbi) leaves 

¼ cup

tamarind pulp 

¼ cup

jaggery (melted)

1 tablespoon

green chilli, ginger & garlic paste 

1½ teaspoon

hing 

1 teaspoon

ajwain 

½ tablespoon

salt 

1 teaspoon

turmeric powder 

½ tablespoon

red chilli powder

½ tablespoon

coriander powder 

A pinch baking soda 

1 ½ cup

besan 

1 teaspoon

garam masala 

1

+2 tablespoons oil

Water as required 
For the seasoning 
2 tablespoons

oil 

½ tablespoon

jeera

½ tablespoon

mustard seeds 

½ tablespoon

sesame seeds 

8

–

10

curry leaves 

A pinch salt

1 tablespoon

sugar 
For Garnish
2 tablespoons

Fresh coconut , grated

2 tablespoons

chopped coriander leaves
---
Instructions
Clean and rinse the arbi leaves. Wipe them dry with a cloth.

Remove the excess stem with the help of a knife. Try to make it flat. Keep aside.

Keep all the leaves ready like this.

Take a bowl, add tamarind pulp, green chilli-ginger-garlic paste, hing, ajwain, salt, turmeric powder, red chilli powder, coriander powder, baking soda and mix it well.

Then add besan, some water and make a lump-free thick paste. 

Heat oil in a pan, add this hot oil to the besan mixture and mix it.

On a flat surface, place the arbi leaf, apply a layer of besan mixture and then place another leaf on it.

Again apply the mixture and repeat this process for 3-4 times.

Once done, fold the edges, roll it to a cylindrical shape and seal the edges by filling the besan paste.

Heat a steamer, place the rolled arbi leaves in it and steam it for 10-12 mins.

Then remove and let it cool. Slice them and set aside.

Heat oil in a pan, place the slices and shallow fry them. 
For the Seasoning
Heat oil in a pan, add jeera, mustard seeds, sesame seeds, curry leaves and let it crackle.

Then add some water, sugar, salt and mix it.

Now, gently toss the slices and remove it on a plate.

Patra are ready to serve.

Garnish it with chopped coriander and grated coconut.
---
Notes
These patra vadi may vary depending on the size of the colocasia leaves.

You can make these rolls in advance a day before and then give tadka or fry them the next day.

You can also freeze them. Keep them in an air-tight container or storage bags, and freeze them. These stay good up to a couple of months.

Always use fresh arbi leaves when making patra or alu vadi.

Colocasia leaves can sometimes cause itching to the hands and throat. Make sure, when you buy them from an Indian store just cook them thoroughly to avoid their side effects. I would suggest you wash a small piece of the leaf first and then eat a tiny portion of the leaf and see. If it irritates your throat, don't proceed further with the recipe.

You can add store-bought tamarind paste and powdered jaggery to the besan paste, if you like.
Category:

Breakfast, Snacks

Cuisine:

Gujarati
Keywords: Homemade Gujarati Patra Recipe, How To Make Patra At Home, Traditional Gujarati Patra, Easy Patra Recipe