Kala Chana, also known as black chickpeas or Bengal grams, is a nutrient-dense legume belonging to the chickpea family that is widely used in Indian and Middle Eastern cuisines. It is smaller in size and darker in colour compared to regular chickpeas. The outer skin of Kala Chana has a rough texture, while the inside is creamy yellow. The legume has a firm texture and a slightly nutty flavour. It is valued for its rich flavour, versatility, and numerous health benefits. Here's a full description of Kala Chana, including its ingredients, health benefits, serving suggestions, tips, and variations.
About this Recipe
Kala Chana is a small, dark-brown legume that is a variety of chickpeas. It has a dense and slightly nutty flavour, and a firm texture even after cooking. The legume is a staple in Indian cuisine, where it is used in various dishes like curries, salads, snacks, and even sweets.
Ingredients:
The basic ingredients for cooking Kala Chana are as follows:
Kala Chana (black chickpeas)
Water for soaking and cooking
Aromatics and spices (such as onions, tomatoes, garlic, ginger, cumin, coriander, turmeric, red chili powder, garam masala, etc.)
Oil or ghee for cooking
Salt to taste
Optional garnishes (such as fresh cilantro, lemon juice, or chopped onions)
Health Benefits:
Kala Chana is highly nutritious and offers several health benefits:
Kala Chana is an excellent source of dietary fibre,promoting digestive health, preventing constipation, and maintaining a healthy gut.
It is a good plant-based source of protein, making it beneficial for vegetarians and vegans. Protein is essential for building and repairing tissues, supporting muscle health, and promoting satiety.
Kala Chana has a low glycemic index, which means it causes a slower and steadier rise in blood sugar levels. This makes it a suitable choice for individuals with diabetes or those aiming to manage blood sugar levels.
Kala Chana contains essential vitamins and minerals such as iron, potassium, magnesium, folate, and vitamin B6. These nutrients contribute to various bodily functions, including red blood cell production, energy metabolism, and nerve function.
The combination of protein, fibre, and low-calorie content in Kala Chana helps promote satiety and control hunger cravings, making it a valuable addition to weight management diets.
Serving Suggestions:
Cooked Kala Chana can be used to prepare a flavorful curry by simmering it in a spiced tomato and onion-based gravy. It pairs well with rice, roti, or naan.
Kala Chana is a popular ingredient in Indian street food chaats like Chana Chaat or Chole Tikki. It is combined with tangy tamarind chutney, yogurt, onions, and spices to create a delightful snack.
Toss cooked Kala Chana with diced cucumbers, tomatoes, onions, and a sprinkle of chaat masala for a refreshing and healthy salad.
Kala Chana can be cooked with minimal spices and served as a simple and nutritious side dish alongside rice and curry.
Tips:
Soak Kala Chana in water for 6-8 hours or overnight before cooking. This helps reduce the cooking time and improves digestibility.
Using a pressure cooker can significantly reduce the cooking time for Kala Chana. It typically takes around 15-20 minutes in a pressure cooker after soaking.
Adjust the amount of spices and seasonings according to your taste preferences. Experiment with different spice combinations to create variations in flavour.
Variations:
Prepare a spiced and tangy Chana Masala by adding tomatoes, onions, ginger, garlic, and a blend of aromatic spices.
Make a South Indian-inspired curry by tempering mustard seeds, curry leaves, and dried red chilies in oil before adding cooked Kala Chana and coconut milk.
Transform cooked Kala Chana into a delicious chaat by adding chopped onions, tomatoes, green chutney, tamarind chutney, sev (crispy chickpea noodles), and a sprinkle of chaat masala.
So, adjust the flavours and ingredients according to your preferences.
Let's see how to make Kala Chana which is gonna be suits your taste buds.
Print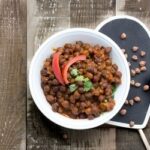 Kala Chana Recipe
---
Author:

Prep Time:

15 minutes

Cook Time:

10 minutes

Total Time:

25 minutes

Yield:

4

1

x

Diet:

Gluten Free
Description
Kala Chana or Dry Indian Spiced black chickpeas is a simple, delicious, no-onion no-garlic recipe.  It is especially made for Ashtami Prasad during the festival of Navratri along with Poori and Halwa. This is a high protein recipe, fully vegetarian & gluten-free!
---
Scale
Ingredients
1 cup

kala chana (black chickpeas)

2 tablespoons

ghee or oil

Salt to taste

1 teaspoon

cumin seeds

2

–

3

green chilies slit

1 teaspoon

red chilli powder

½ teaspoon

turmeric powder

½ tablespoon

chaat masala

1 tablespoon

fresh coriander powder

1 teaspoon

garam masala powder

Fresh coriander leaves for garnish
---
Instructions
Wash the black chickpeas well in cold water for 2-3 times till water runs out clear. 

Soak them overnight or for at least 6 to 8 hours in enough water around 3 cups. 

After that drain the water and transfer the chickpeas to a pressure cooker.

Add 3 cups of water along with ½ teaspoon salt. 

Combine well and cover the lid.

Then cook for 5 to 6 whistles on medium flame or until tender and then turn off the heat.

Once the pressure is released, open the lid and check the chickpeas cooked.

Now separate the water and the boiled chickpeas. Keep aside.

Heat ghee in a pan, add the jeera seeds. 

Once the cumin seeds crackle, add the slit green chillies and fry for a minute on low flame. (Make sure the green chillies don't burn.

Then add the spices turmeric powder, coriander powder, red chilli powder, garam masala, chaat masala and salt to taste.

Add the boiled chickpeas to the pan and mix well until the spices coat the chana well.

Add a little bit of remaining chana water and cook for 4-5 minutes on low flame till the water is absorbed.

Turn off the heat and  garnish with some green coriander leaves.

Kale chane is ready to serve.

Serve hot with poori, aloo ki sabji and pickle.
---
Notes
It is important to soak the black chickpeas. It helps to cook the chana faster and also makes them easy to digest.

Check if the chickpeas are cooked by pressing them between your thumb and finger, it should mash easily. If you feel that chickpeas are not cooked completely then cook for 2 – 3 whistles more.

To make it vegan, use oil instead of ghee.

Carefully, add the salt as we have already added salt while boiling the chickpeas.

You may adjust the spices according to your taste bud.
Category:

Breakfast

Cuisine:

Indian
Keywords: Sookhe Kale Chane, Kala Chana Navratri Prasad Recipe, No-Onion No-Garlic Kala Chana Recipe, Dry Chickpeas Curry