Shahi Paneer is a beloved Indian dish that is known for its luxurious and creamy texture. The term "shahi" translates to "royal," indicating the dish is associated with regal flavours and ingredients. It is a popular vegetarian option and is often served during special occasions and celebrations.
Ingredients 
The recipe starts by sautéing finely chopped onions until they turn golden brown. This process helps develop a rich and flavorful base for the dish.
Ginger-garlic paste is added to enhance the aromatic taste of the gravy.
The tomato puree is then cooked until the oil separates, indicating that the tomatoes are caramelised and released their natural sweetness.
To give the Shahi Paneer its creaminess, soaked cashew nuts are ground into a smooth paste and added to the gravy. This adds a delicate nutty flavour and helps thicken the sauce.
Few spices- Garam masala, turmeric powder, red chili powder, and cardamom powder are the key spices that contribute to the dish's distinct taste. These spices create a balance of flavours, with the garam masala providing warmth, turmeric powder adding a vibrant colour, and the cardamom powder imparting a hint of sweetness and aroma.
Paneer, the star ingredient of the dish, is added to the gravy and gently simmered to allow it to absorb the flavours. Paneer is a soft, unaged cheese commonly used in Indian cuisine. It has a mild, milky taste and a firm texture that holds its shape well during cooking.
To further enrich the dish, fresh cream is added towards the end, lending a smooth and velvety consistency to the gravy. The cream adds a touch of indulgence and balances out the spices, providing a mellow and creamy finish.
Shahi Paneer is garnished with fresh coriander leaves, which not only adds a burst of freshness but also enhances the visual appeal of the dish. The vibrant colours, creamy texture, and aromatic flavours of Shahi Paneer make it an inviting and satisfying dish.
Serving Suggestions
Shahi Paneer pairs well with Indian breads like naan, roti, or paratha. It can also be served with steamed rice or pulao for a complete meal. You can serve it with a side of raita (yogurt-based dip) and some salad for a balanced and refreshing combination.
Storage Tips
If you have any leftovers, you can store Shahi Paneer in an airtight container in the refrigerator for up to 2 days. When reheating, gently warm it on the stovetop over low heat, stirring occasionally. The gravy may thicken upon refrigeration, so you can add a little water or cream to adjust the consistency if needed.
Overall, Shahi Paneer is a delectable dish that showcases the richness of Indian flavours and the versatility of paneer. Its creamy texture, aromatic spices, and regal appeal make it a popular choice for those seeking a truly indulgent vegetarian experience.
Print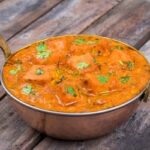 Shahi Paneer Recipe
---
Author:

Prep Time:

15 minutes

Cook Time:

30 minutes

Total Time:

45 minutes

Yield:

2

1

x

Diet:

Vegetarian
Description
Shahi Paneer is a rich, aromatic and creamy Indian dish made with paneer (Indian cottage cheese) cooked in a velvety tomato and cashew-based gravy. It is flavoured with aromatic spices and often garnished with fresh cilantro. The dish is known for its luxurious texture and indulgent taste, enjoyed by many people for special occasions.
---
Scale
Ingredients
250 grams

paneer cut into cubes or triangles 

2 tablespoons

ghee or clarified butter

1

large onion, finely chopped

2

tomatoes, pureed

¼ cup

cashews, (soaked in warm water)

1 tablespoon

ginger-garlic paste

¼

  cup fresh cream

½ cup

milk

½

  teaspoon turmeric powder

1 teaspoon

red chili powder or adjust to taste

1 teaspoon

garam masala

½ teaspoon

cardamom powder

½ teaspoon

sugar

Salt to taste
For Garnishing
1 teaspoon

dried fenugreek leaves (

kasuri methi)

Fresh coriander leaves

6

–

7

saffron strands
---
Instructions
Heat ghee in a pan over medium heat. Add the chopped onions and sauté until golden brown.

Meanwhile, in a blender, grind the soaked cashews to a smooth paste.

Once the onions are caramelised, add the ginger-garlic paste and sauté for a minute until fragrant.

Add the tomato puree to the pan and cook for a few minutes until the raw smell of the tomatoes disappears.

Now, add the cashew paste and mix well. Cook for another 2-3 minutes.

Reduce the heat to low and add turmeric powder, red chili powder, garam masala, cardamom powder, sugar, and salt. Stir everything together.

Gradually add milk and fresh cream to the pan, stirring continuously to combine the ingredients and prevent any lumps from forming.

Add the paneer cubes to the gravy and gently mix until the paneer is well coated. Allow it to simmer for 5-7 minutes, stirring occasionally.

Taste the gravy and adjust the salt and spices according to your preference. If the gravy is too thick, you can add a little water or milk to adjust the consistency.

Once the paneer is cooked and the flavours are well incorporated, turn off the heat. Garnish with fresh coriander leaves.

Serve Shahi Paneer hot with naan, roti, or steamed rice.
---
Notes
Use fresh and good quality paneer: Fresh paneer will have a soft and creamy texture, which enhances the overall taste and consistency of the dish. If possible, make your own paneer at home or choose a good quality paneer from the store.

Sauté the onions well until they turn golden brown. This step adds depth and sweetness to the gravy, resulting in a richer flavour.

Soak cashews to get a creamy texture: Soak the cashews in warm water for about 15-20 minutes before grinding them into a paste. This step softens the cashews and helps achieve a creamy texture in the gravy.

Blend the cashews and tomatoes separately. When blending the cashews and tomatoes, ensure they have a smooth consistency. This gives a velvety texture to the gravy.

Adjust the spices according to your taste: The spice levels can vary based on personal preference, so feel free to adjust the amount of red chilli powder, garam masala, and other spices to suit your taste.

Use fresh cream for richness: Fresh cream adds richness and a creamy texture to the dish. If possible, opt for fresh cream instead of substitutes like milk or yogurt.

Simmer the paneer in the gravy: After adding the paneer cubes to the gravy, allow them to simmer for a few minutes. This helps the paneer absorb the flavours from the gravy and become tender.

Garnish with fresh coriander leaves: Adding fresh coriander leaves as a garnish adds a burst of freshness to the dish and enhances its visual appearance.

Let the flavours meld completely. Shahi Paneer tastes even better when the flavours have had time to meld together. If possible, allow the prepared dish to rest for a little while before serving.
Category:

Main course

Cuisine:

North Indian
Keywords: Restaurant Style Shahi Paneer Recipe, Indian vegetarian Recipes, Easy Lunch Recipes, Best Punjabi shahi paneer recipe