Cheese Baked Maggi is a delicious and indulgent twist on the classic Maggi noodles. In this recipe, the cooked noodles are combined with a flavorful sauce, topped with cheese, and baked to perfection, resulting in a cheesy, gooey, and comforting dish.
Origin:
Maggi is a popular brand of instant noodles that has gained worldwide recognition and a dedicated fan base. It was first introduced in Switzerland in the late 19th century by Julius Maggi, a Swiss entrepreneur. Maggi noodles are known for their quick and easy preparation, making them a convenient and delicious option for a fast meal or snack.
Maggi has become a staple in many households, particularly among students, busy professionals, and those looking for a quick and convenient meal option. Its widespread popularity can be attributed to factors such as its affordability, ease of preparation, and wide range of flavours. It has also become a nostalgic comfort food for many, evoking memories of quick and tasty meals during childhood or college days.
Maggi has undoubtedly made a significant impact on the global food market, becoming an iconic brand associated with convenience, taste, and innovation. Whether enjoyed as a quick snack or transformed into a more elaborate dish, Maggi continues to satisfy taste buds and offer a satisfying meal option for people of all ages.
Serving Suggestions: 
Cheese Baked Maggi can be served as a standalone dish or paired with a fresh salad or garlic bread. It makes for a satisfying and comforting meal.
You can also serve it as a side dish alongside grilled chicken or roasted vegetables.
Tips:
Be careful not to overcook the Maggi noodles before baking, as they will continue to cook in the oven and can become mushy.
Experiment with different types of cheese to vary the flavour and texture of the dish.
Feel free to add additional ingredients to the Maggi noodles before baking, such as sautéed vegetables, cooked chicken, or diced ham, to make it a heartier meal.
Variations:
Add some chopped green chilies or a dash of hot sauce to the sauce mixture to give the dish an extra kick.
Add a variety of sautéed vegetables, such as bell peppers, mushrooms, zucchini, or broccoli, to the Maggi noodles before baking to incorporate more vegetables and flavours.
For a non-vegetarian version, add cooked and seasoned ground meat, such as chicken, beef, or lamb, to the Maggi noodles before baking.
Leftover Ideas: 
If you have any leftovers of Cheese Baked Maggi, you can store them in the refrigerator in an airtight container. When reheating, add a splash of milk or water to prevent the noodles from drying out. You can also repurpose the leftovers by stirring them into a scrambled egg mixture for a cheesy Maggi omelette or using them as a filling for a grilled cheese sandwich.
Cheese Baked Maggi is a delightful and comforting dish that combines the convenience of Maggi noodles with the indulgence of melted cheese. It's a versatile recipe that can be customised to suit your taste preferences and is sure to be a hit at the dining table.
Enjoy!
Print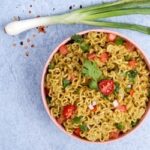 Cheesy Baked Maggi
---
Author:

Prep Time:

10 minutes

Cook Time:

25 minutes

Total Time:

35 minutes

Yield:

2

–

3

1

x

Diet:

Vegetarian
Description
Cheese Baked Maggi is a delightful twist on the classic Maggi noodles, baked with vegetables and cheese to create a flavourful and satisfying dish that will please both kids and adults alike. The combination of the creamy melted cheese, tender Maggi noodles, and flavourful vegetables makes it a comforting meal that you can try.
---
Scale
Ingredients
2

packs of Maggi noodles

1 cup

mixed vegetables (carrots, peas, corn, bell peppers, etc.), finely chopped

1

onion, finely chopped

2

garlic cloves, minced

1 tablespoon

oil

1 teaspoon

red chili flakes (adjust to taste)

1/2 teaspoon

dried mixed herbs (such as oregano, basil, thyme)

Salt to taste

½ cup

grated cheese (cheddar, mozzarella, or your choice)

Fresh parsley or coriander leaves, chopped (for garnish)
---
Instructions
Preheat your oven to 180°C (350°F).

Boil water in a large saucepan and cook the Maggi noodles according to the package instructions. Drain and set aside.

In a separate pan, heat oil over medium heat. Add minced garlic and sauté for a minute until fragrant. Then, add the chopped onions and cook until they turn translucent.

Add the mixed vegetables to the pan and cook for about 3-4 minutes until they are slightly tender. Stir occasionally to ensure even cooking.

Now, add the Maggi tastemaker (the masala packet that comes with the noodles) to the vegetables along with red chili flakes, dried mixed herbs, and salt. Mix well and cook for another minute.

Add the cooked Maggi noodles to the pan and toss everything together until the noodles are evenly coated with the vegetables and spices. Turn off the heat.

Transfer the Maggi mixture to a baking dish and spread it evenly. Sprinkle the grated cheese on top, covering the entire surface.

Place the baking dish in the preheated oven and bake for about 15 minutes or until the cheese has melted and turned golden brown.

Once done, remove from the oven and let it cool for a few minutes. Garnish with fresh parsley or coriander leaves.

Serve the Cheesy Veggie Maggi Bake hot and enjoy!
---
Notes
You can serve this dish as a main course accompanied by a fresh salad or garlic bread.

For an extra kick, drizzle some chili sauce or hot sauce on top before serving.

This recipe is customizable, so feel free to add your favourite vegetables or adjust the spice level according to your preference.

Make sure to use an oven-safe baking dish for this recipe.
Category:

Breakfast

Cuisine:

Indian
Keywords: Cheesy Vegetable Baked Maggi, Vegetable Masala Maggi, Easy Quick Cheesy Maggi, Maggi Noodles