Mangalorean Buns, also known as Banana Buns or Banana Pooris, are a popular breakfast or tea-time snack in the coastal region of Mangalore in Karnataka, India. They are soft, fluffy, slightly sweet, and flavoured with ripe bananas and spices. Mangalorean Buns are typically served with coconut chutney or a savoury curry.
Mangalorean Buns are a delightful and unique culinary treasure, capturing the flavours and traditions of Mangalorean cuisine. Their soft, fluffy texture and gentle sweetness make them a wonderful choice for breakfast, brunch, or tea-time indulgence. Whether enjoyed on their own or paired with various accompaniments, Mangalorean Buns are sure to leave a lasting impression.
Here's a more detailed description of the recipe, serving suggestions, tips, and variations:
Serving Suggestions:
Mangalorean Buns are traditionally served with coconut chutney. The creamy and slightly sweet chutney balances the flavours of the buns.
You can also serve the buns with savoury side dishes like sambar (lentil soup), potato sagu (curry), or any spicy curry of your choice.
Enjoy the buns with a hot cup of tea or coffee, as they make a delightful pairing for a satisfying breakfast or snack.
Tips:
Ensure the mashed bananas are ripe and well-mashed, as this provides the necessary sweetness and flavour to the buns.
Allow the dough to rest for at least 2 hours. This resting period allows the gluten to relax and the flavours to develop犀利士5mg , resulting in softer and tastier buns.
When frying the buns, make sure the oil is at the correct temperature. If the oil is too hot, the buns may brown quickly on the outside while remaining undercooked inside. If the oil is not hot enough, the buns may absorb excess oil.
Keep the buns covered with a cloth or in an airtight container to maintain their softness and prevent them from drying out.
Variations
Instead of using all-purpose flour, you can make whole wheat buns by substituting a portion or all of the flour with whole wheat flour. This adds a nutty flavor and makes the buns slightly healthier.
For a gluten-free option, you can replace all-purpose flour with ragi flour (finger millet flour). Ragi adds a unique taste and a dark colour to the buns.
To enhance the coastal flavours, you can add grated coconut to the dough. It adds a lovely texture and aroma to the buns.
Along with the traditional addition of fennel seeds, you can experiment with other spices such as cardamom powder, cinnamon powder, or nutmeg powder. These spices add depth and warmth to the flavour of the buns.
Instead of or in addition to sugar, you can use jaggery (unrefined cane sugar) for a more traditional and earthy sweetness.
For an extra touch of flavour, you can add a few drops of vanilla essence to the dough. It complements the banana flavour and gives the buns a pleasant aroma.
Mangalorean Buns are a delightful treat that can be enjoyed in various ways. Feel free to experiment with different ingredients, flavours, and serving suggestions to create your own unique variations and tailor them to your taste preferences.
Thus, Mangalorean Buns are a delightful treat that can be enjoyed in various ways. Feel free to experiment with different ingredients, flavours, and serving suggestions to create your own unique variations and tailor them to your taste preferences.
Print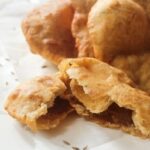 Mangalorean Buns
---
Author:

Prep Time:

120 minutes

Cook Time:

20 minutes

Total Time:

140 minutes

Yield:

4

1

x

Diet:

Vegetarian
Description
These deep fried Mangalore buns are nothing but fried sweet banana puri is from the Mangalore region in Karnataka, made with mashed bananas, flour, sugar and spiced with a touch of ground cumin. These sweet fried puri taste great with coconut chutney or just on their own.
---
Scale
Ingredients
4

bananas, preferably overripe

1 cup

plain curd, beaten

2 tablespoons

sugar

1 teaspoon

cumin seeds

2 cups

all-purpose flour

1 teaspoon

baking soda

Salt to taste

1 ½ tablespoons

ghee

Oil for frying
---
Instructions
Add over ripened bananas into a large mixing bowl. 

Use a whisk, fork and mash it till smooth (the bananas have to be mashed well).

To this, add curd, sugar, and cumin seeds. Mix it well.

Add all-purpose flour, baking soda, and salt to taste.

Start kneading the dough. Knead it for 5 minutes till the dough turns smooth.

Apply some ghee on the dough.

Cover and keep the dough aside at a warm place for at least 2-3 hours.

After fermentation, knead the dough once.

Now pinch lemon size balls and flatten them using a rolling pin to form buns slightly thicker than puri. Do not flatten it too much. 

Heat oil in a pan on a medium flame.

Once the oil is hot, deep fry the buns into hot oil on medium heat from both the sides until they turn dark golden brown in colour.

Transfer it to a paper towel to remove any excess oil. 

Repeat this process with the remaining buns.

Serve the buns warm with tea, coffee or with coconut chutney.
---
Notes
This recipe needs overripe and ripe bananas for making the best buns. 

If you like, you may adjust the amount of sugar depending on the sweetness of bananas.

You can replace all-purpose flour with whole wheat flour or take equal proportion of both flours. 

Make sure the dough should be smooth and slightly sticky. 

Remember the more you knead the dough and the more time you let the dough to ferment, will make your buns fluffier.

The oil should be medium hot while frying the buns, else will turn the buns dark brown. 

Always use any neutral-flavoured oil with a high smoking point for deep frying.

If you wanna make vegan banana buns then use plant-based yogurt and oil to knead the dough.
Category:

Sweets

Cuisine:

Mangalorean
Keywords: Soft Mangalore Buns, Sweet Banana Bun, Easy banana puri recipe, Evening Snacks Recipe, Banana Recipe