Khasta kachori and flavorful UP style aloo ki sabzi is a popular vegetarian Indian breakfast dish on the street food menu prepared by the street hawkers. These are deep-fried flaky crispy bread/pastry stuffed inside with lentils, spices, or vegetables, and this matar kachori is one of them. It is a flaky, crisp deep-fried pastry just like the other kachoris filled inside with spiced green peas filling. These kachoris are mostly served with spicy "Aloo ki sabji", or with a variety of flavorsome chutneys or tea.
About This Recipe
The Kachori recipe first originated in the state of Rajasthan, India and nowwhere, you will find a variety of savory kachoris like pyaaz (onion) kachori, Aloo kachori, etc.
Some sweet kachori versions are also available like mawa kachori, chocolate-filled kachori, or mango kachori.
This matar kachori recipe involves three steps:
 Preparation of the dough
 Preparation of the stuffing
 And the frying process
You don't require much time to knead the dough for kachori. Make sure, first using your hands start rubbing oil and flour nicely together before adding water. They must look similar to bread crumbs. This process takes little time if you want to make a kachori-like market style.
I suggest, always use ice-cold water to knead the perfect dough. This will help to make flaky, crispy kachoris. Let the dough rest for few minutes and cover it with a clean muslin cloth.
To make the kachori stuffing, you require fresh green peas or frozen peas depending upon the availability. Just grind it to make a smooth mixture and then roast the pea mixture nicely along with the spices before stuffing it inside the kachori.
Remember do not to overstuff the kachori with the filling. Otherwise, the outer crust will get pierced, while folding the edges.
Before frying the kachori, make sure the oil is heated at the right temperature.
Ingredients
You need very few everyday ingredients to make Matar Kachori.
You will require all-purpose flour, suji, powdered sugar, salt, oil, and water for the outer crispy layer of the Kachori.
You will require green peas, oil, asafetida, cumin seeds, ginger, garlic, green chillies, coriander, turmeric powder, red chilli powder, garam masala powder, dry mango powder, and salt to taste for the stuffing.
You can add little boiled, mashed potatoes into the mixture as per your desire.
I like this Kachori only with green peas.
Serving Suggestions
It tastes best with spicy and tangy Rasewali Aloo ki sabzi. It is served piping hot, straight out of the frying pan.
Matar Kachori can also be served as an evening snack with chutneys like mint or coriander chutney, sweet tamarind chutney, or with tea.
You can also make a chaat using this Kachori.
Here, I am sharing a very delicious and quite easy recipe for making Green Peas (Matar Masala Kachori).
Let's get started.
Print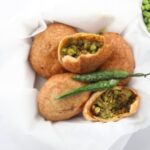 Matar (green peas) Kachori
---
Author:

Prep Time:

15 mins

Cook Time:

30 mins

Total Time:

45 mins

Yield:

4

Diet:

Vegetarian
Description
Green Peas or Matar ki Kachori is the most popular Indian breakfast recipe. It is a deep-fried crispy flaky snack filled with spicy green peas filling. Serve it with a spicy aloo sabji, tea, or even with chutneys. You do not require too many ingredients to make this snack, you can make it very easily. So here is how to make it.
---
Ingredients
To prepare the dough

1.5 cup all- purpose flour

Salt to taste

1 teaspoon powdered sugar

3 tablespoons semolina (suji)

2 tablespoons oil

Water as required
To prepare the stuffing
1.5 cup fresh green peas (matar)

2 green chillies

½ inch ginger piece

8-10 garlic cloves

Water

1 tablespoon oil

¼ teaspoon asafetida

1 teaspoon cumin seeds

¼ teaspoon turmeric powder

2 teaspoons coriander powder

½ teaspoon red chilli powder

½ teaspoon garam masala

1 teaspoon dry mango powder

Salt to taste

Oil for deep frying

 
---
Instructions
To prepare the dough
Take all-purpose flour, salt, powdered sugar, suji, and 2 tablespoons of oil in a large bowl.

Using your finger, combine everything well.

Add little water and knead it to make smooth and soft dough.

Cover it with a clean muslin cloth and keep it aside
To prepare the stuffing
In a mixer jar, add frozen or fresh green peas along with green chilli, ginger, and garlic.

Add little water and make a fine smooth paste.

Heat oil in a pan, add asafetida and cumin seeds. Allow it to crackle.

Then add turmeric powder, coriander powder, and red chili powder. Then reduce the flame at low. Mix well and then add green pea's paste.

Continue mixing until the masala separates from the pan or leaves the sides.

Add garam masala, dry mango powder, and salt to taste.

Mix everything well.

Stuffing is ready. Allow it to cool and set aside.
For making Kachori 
Take little oil in your hands and divide the dough into an equal portion of balls.

Make the round equal balls of the stuffing as like the dough.

Take a dough ball and roll it to make a small puri.

Add 1 tablespoon of matar stuffing into the center of the puri.

Gently press to fold the edges together and flatten them.

Apply some oil on the rolling board and roll the dough.   

Prepare all matar kachoris like these.

Fry the kachori at medium-high flame.

Spaltter some oil on kachori.

Flip and cook till they become golden, flaky, and crisp.

Drain them on paper tissues to remove excess oil. 

Serve kachori hot with aloo ki sabji.
---
Notes
To make the kachori more crispy and flaky texture, add ghee in flour instead of using oil.

You can also use frozen peas to make Matar kachori, if fresh peas are not available.

Make sure; do not add water while grinding the peas. If using frozen peas, just keep them at room temperature before using them for the stuffing.

While frying, gently presses the kachori with a spatula. This makes kachori to puff up. Do not flip the kachori repeatedly.

Fry kachori always on low flame, because frying on high flame makes it soon dark brown from outside and remains uncooked from inside.

Do not overload the pan while frying the kachori. Fry maximum 2-3 at a time.

Matar kachori stays fresh at room temperature for 1 – 2 days. Store them in an air-tight container.
Category:

Breakfast, Snack

Cuisine:

Indian
Keywords: How to make Kachori, Khasta Matar Kachori Recipe, Green Peas kachori,